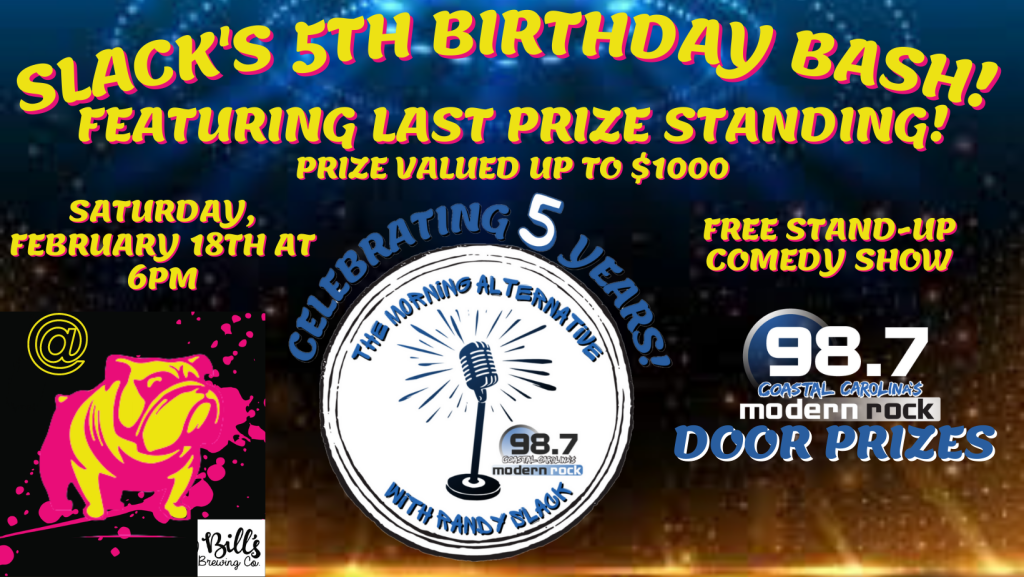 Join us on Saturday, February 18th at 6 pm at Bills brewing Co. to celebrate 5 years of The Morning Alternative with Randy Slack with a Last Prize Standing Contest!
We'll select 30 lucky players to each choose one of 31 prizes of up to $1,000 to eliminate from our Prize Board! Then one of those players will be selected at random to win the Last Prize Left Standing on the Prize Board!
Here's the Prizes:
NFL Sunday Ticket and Pizza (1 season subscription to NFL Sunday Ticket and pizza every week of the NFL Regular season)
TV (flat screen TV worth up to $1,000)
$500 Door Dash/$500 Instacart
Personalized Cameo Video from Scott Stapp of Creed, because why not?
OSHAA Forklift Certification
Charter Fishing Trip
Streaming Services for a year up to $1,000 value
PS5 Bundle
Arcade Cabinet
His and Her "Enhancement" Pack from Revival Laser and Skin Clinic
Up to $1,000 of Lululemon and Yoga
$1000 worth of meat
Haircuts for a year
WWE Championship Belt
Stainless Steel Grill Traveler from Wilmington Grill
Trip to Glenburnie, MD
$1000 worth of radio ads on Modern Rock 98.7 and our local sister stations
Tattoo of OUR choice
Golf Package from Loggerhead Golf Co.
Roomba
Kegerator
$1000 Flight Credit
Party at Top Golf
$1,000 towards a new iPhone
Cowboy Boots
Fitbit and Gym membership
Fried Chicken
AirBnb and Gas Card
72 lb Wheel of Parmesan Cheese
$1000 to a Dollar Store
Singing Lessons
Only one of these prizes will be left on the board at the end, but which one, and who will win? You'll have to be at Bill's on February 18th to find out!